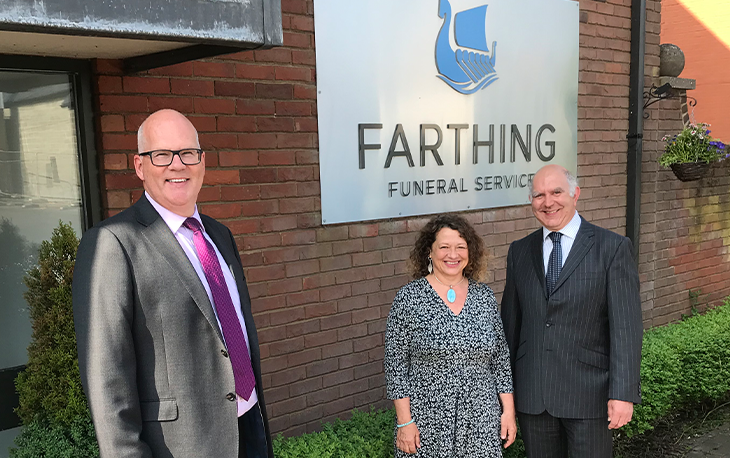 Farthing Funeral Service, a family-run funeral directors in Suffolk, has received support to engage more deeply with the communities its funeral homes have served for more than 180 years by joining Funeral Partners.
The funeral directors which has funeral homes in Ipswich, Felixstowe and Debenham sees the Funeral Partners network expand into the East of England.
With the administrative support and investment from Funeral Partners, Farthing Funeral Service looks forward to growing the business and being able to support the local community by organising more community activities and involvement with local charities.
Undertaker Stanley Farthing, the grandfather of Business Principal Luke Farthing, acquired two Felixstowe building firms in the early 1950s before his son, Donald, transformed them into Farthing Funeral Service in 1955.
The family business expanded in 1960 when Donald and his wife, Margaret, purchased Hasting & Sons and later Singletons, two Ipswich funeral homes that had served their local communities since 1876 and 1840, respectively, before combining them under one name.
The funeral homes' long histories have seen the business place great emphasis on community support and involvement, which was strengthened when Luke's wife, Liz, began helping in the business around the time that Luke became a partner along with his parents and brother in 1985.
Luke and Liz are well-known to Suffolk locals, being sponsors of The Blossom Appeal, the Ipswich-based breast cancer charity; The Hope Trust, a local charity which supports the bereaved and elderly; the Suffolk Community Foundation, a wide-ranging community network, and the Red Rose Chain, a theatre with a group for young adults with learning difficulties.
By 1997 the business had expanded to three communities across Suffolk which were operating under different names, so as Luke and Liz became the sole owners in 2015, they united them all under the Farthing Funeral Service brand.
Luke and Liz discovered Funeral Partners shared an affinity with their goals and were excited about the prospect of receiving support and investments to expand their service to bereaved families as well as their vital community presence.
The couple firmly believes in supporting charities in their local communities and are delighted to be encouraged and strengthened by Funeral Partners in this endeavour.
Luke said: "Liz and I thought about our future and realised that regulations, requirements and paperwork were only going to increase as the funeral homes became busier and busier.
"With community being central to all of our branches since they were founded, we didn't want to trade one thing for the other, and we felt very comfortable about Funeral Partners helping us achieve the best of both worlds.
"I'm excited to continue supporting the growth of Farthing Funeral Service, its community outreach and its hardworking teams as Business Principal, with Liz by my side as a Community Consultant."
Liz added: "Funeral Partners showed a real empathy with Farthing Funeral Service and we're delighted to take this next step in our journey. It's great to see how much the Funeral Partners network gets involved with their communities."
Simon Roberts, Regional Development Director at Funeral Partners, said: "There's a real connection between Farthing Funeral Service and Funeral Partners that we can't wait to see blossom over the coming years as we help Luke and Liz engage with charities and organisations around Suffolk."
Sam Kershaw, CEO at Funeral Partners, said: "This is an exciting time for both Farthing Funeral Service and Funeral Partners, with Suffolk being a new area of expansion and development for us. We welcome Luke, Liz and their teams to the Funeral Partners family and look forward to working closely with them."